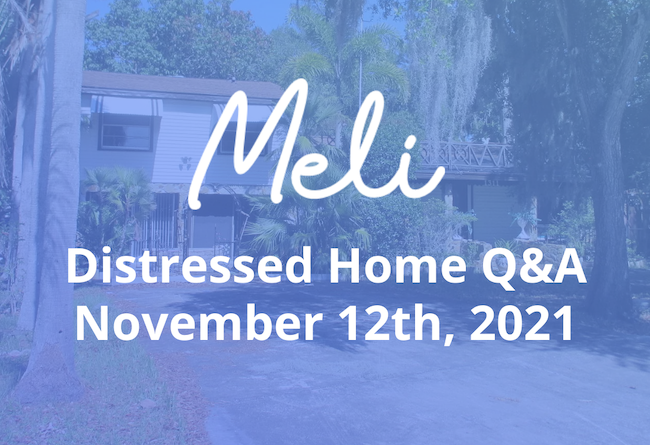 Distressed Home Q&A Recording – November 12, 2021
For your ease, we have provided a transcript of the Q&A Recording.
Hey, this is Evan with Meli back for our monthly Q&A for November. We answer questions that we get from clients and various people that we talk to.
Meli is a home buyer, brokerage, and consultant focusing on Central Florida. We work with clients that may have properties that have title issues like liens, probates, judgments, code violations, things of that nature. That's what our focus is. We'll work to fix those issues and help you sell your property, either by making you an offer on the property or we will help you list the property. Let's go ahead and get into our first few questions here.
1. What's a cash home buyer?
Simply put, a cash home buyer is just an investor or investment company that buys properties as-is for cash. They don't have financing contingencies, so they can buy properties that may have some issues. Maybe there are repairs that are needed, but they'll still buy those properties without having to deal with the bank, meaning they'll typically close faster. So, the terms are a little bit better. If you're looking to sell your property quickly, then that could be a good option for you.
Read More: What is a Cash Buyer in Property?
2. What can I expect from selling my home to a cash home buyer?
When you're selling a home to a cash home buyer, you can usually expect that they'll be able to close faster. The terms will typically be better. They're going to be able to buy the property, even if there are some issues. Maybe the property needs updating, it hasn't been well-maintained, or it needs a new roof. The types of things that a bank typically won't finance. They'll be able to buy it outright, rather than a typical retail buyer that needs a mortgage.
3. What's a distressed property?
A distressed property can be a property that hasn't been maintained, or it could be a property with a title issue or is going through foreclosure. A property can be distressed but be well-maintained, so it could be a property that has a lien on it. Maybe the property is worth $300,000, but there's $300,000 in liens on it, which ultimately means that the property isn't worth anything until the liens are taken care of. So, a distressed property can be various things. It's not just that the property hasn't been well-maintained. It could be that the property hasn't been taken care of from a fiscal standpoint. Maybe the title hasn't been well taken care of.
Read More: What Does "Distressed Property" Mean?
4. Can I sell a house with a lien on it?
Yes, you can absolutely sell a house with a lien on it. The problem is that a lot of people won't buy properties with liens. It depends on what's going on with the lien. Maybe it's a massive lien, maybe it's hundreds of thousands of dollars. A lot of people won't buy that. Many cash buyers and investors won't buy that. But there are some that will, and we will. There are probably a few others that will, too, but it's very rare that they'll buy it.
It also depends on what it is. If it's a very small lien, then you'll probably take care of it before closing. You can definitely do that. Just get with a buyer and figure out what the situation is on the property. Maybe it isn't that big of an issue, or maybe it is. You just have to find out. You can also talk with an attorney that could tell you how complicated the matter is going to be. But a lot of times investors understand this stuff just as well as most attorneys if they've been doing it a long time. So to answer the question, yes, you can absolutely sell a house with a lien on it.
Read More: Can You Sell a House With a Lien on it?
5. Is it possible to sell a house before it goes to foreclosure?
Yes, it's absolutely possible. Typically, you're going to want to try to sell it. You're not going to want to wait until the week before. At that point, it's going to be very difficult to get the closing done in time. But if you have a little bit of time… 30 days or even maybe a couple of weeks, that should be adequate time for an investor to purchase the property. You could definitely sell it at that point. So to reiterate, it's definitely possible to sell a house before it goes to foreclosure. The only complication is going to be if you've waited up until the last moment.
Read More: Can You Sell Your House Before Foreclosure?
6. What can I do with a hoarder's home I inherited?
I've seen many people try to clean the house out and end up getting very stressed about the whole situation. So then they try to sell it. I typically tell people to just sell it as-is unless they really want to get into trying to clear out the entire property if it's a severe situation.
Most times it's going to be a lot easier just to go ahead and sell it. In my experience, that's the best way to do it. However, if you clean it out, you're going to get a better offer on the property. It's just a matter of how much work are you willing to put into it or spend on doing it? But if you're okay with doing that, ultimately it will net you more money.
Read More: How to Sell a Hoarder's House
7. How can I sell a house that needs repairs?
Typically, you can sell a house that needs repairs to cash buyers. You won't usually be able to sell it to a retail buyer, unless they're personally paying all cash. So in most scenarios, you can't, but you can definitely sell it to an investor. There's plenty of investors out there that will buy houses that need repairs. It's not a problem at all.
Typically, you can just Google and find one. You'll see them around on various forms of marketing, and if your property is in distress in any other ways, you're probably getting called by all the cold callers. So, I'm sure it's not very hard to find someone to sell your property to.
Read More: How to Sell a House That Needs Repairs
8. Can you sell a house in probate in Florida?
You can go on a contract with a buyer while the home is in probate. Then, as soon as the judge lets you know that the house is now awarded to the heirs, you can sell it. If you go under contract before the probate is finished, you can have everything ready to close as soon as it's transferred.
If you're in a hurry, the best way to do it is to find a buyer for it now. Then, when everything's ready in the probate, assuming that you're doing it yourself through an attorney, then you'd be ready to sell it. We and some other guys will actually do the probate for you. I would also recommend that. It would be less stress on you than if you handled the whole probate yourself. It can be more difficult because most people don't deal with it very much. But people in the business, many of them have dealt with it several times. So it will be easier to allow them to do it.
Read More: Selling a House in Probate in Florida
9. Where do you operate?
So, we're based in Orlando. We've bought houses throughout Central Florida. We bought houses on the West Coast of Florida, East Coast of Florida, various places. Currently, we're focusing a lot on Central Florida and the Orange County area. That's been a lot of our focus.
Read More: Where Do We Buy Homes in Florida?
10. Can you help me sell my home with title issues?
Yes, absolutely. So that's what we focus on. Currently, we're focused on mostly title issue properties. Things that may have disputes among family members, or are tied up in some type of legal issue. It can be probate or various things of that nature. We can definitely help you with any of those types of situations. It's not a problem at all.
Wrapping Up
Any other questions? I don't think we have any comments now. So, as always, I do appreciate it. You can give us a call at 407 305-5008, and you can always go to our website, MeliHomes.com, fill out a form, provide your contact information, and we will get with you as soon as possible and help figure out if we're a good fit to work with one another.
And as always, Meli is a home buyer, brokerage, and consultant that focuses on title issues, liens, probates, judgments, and code violations working throughout Central Florida. Just reach out. Appreciate it.
This article is meant for informational purposes only and is not intended to be construed as financial, tax, legal, real estate, insurance, or investment advice. Meli encourages you to reach out to an advisor regarding your own situation. Please consult with your advisor when making legal or financial decisions.